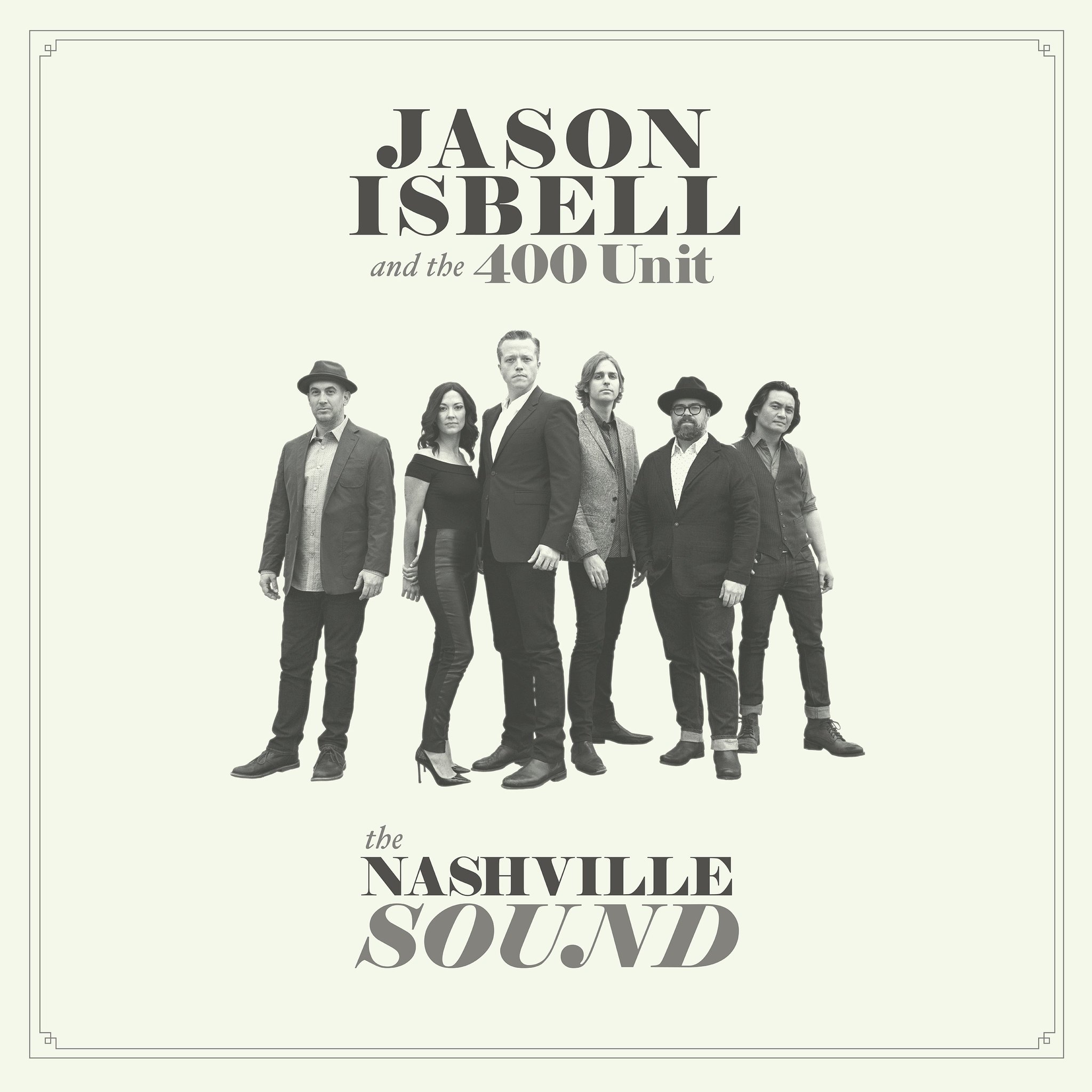 When you're an artist like Jason Isbell, the bar gets set higher and higher with each and every new album release, creating a tough hurdle for his album The Nashville Sound. Though he has established himself as one of the all-time greats in the world of songwriting during his time with the band Drive-By Truckers and over the course of three solo albums to date, it didn't seem like a broader fanbase opened up to him until his 2013 LP, Southeastern. Isbell ripped his heart right out of his chest and slapped it on your turntable so you could hear every ounce of pain and sorrow, every ounce of joy and happiness, that he had experienced up until that point. The grooves of his arteries showcased a delicate artist, one who could capture the story of falling in love in a matter of minutes, or highlight the depths of pain that cancer brings to a relationship.
The Nashville Sound finds a recharged Isbell waving the flag for his adopted hometown's left-of-center roots musicians. The city has changed markedly since his arrival, with exports like Isbell, Sturgill Simpson and Margo Price challenging the public's perception of what Nashville – a town whose very name remains synonymous with mainstream country music – actually sounds like. His roots sunk deep into the Tennessee ground, Isbell digs in for his biggest, boldest album to date, one that skirts the tired trends of Top 40 twang and, instead, sets a new watermark for accessible, articulate Americana.
Once again, the songs were written at home – this time in a modest place somewhere south of the city limits – with Amanda Shires pulling triple duty as muse, editor and bandmate. Also contributing to the album's pointed punch are the 400 Unit's Sadler Vaden, Chad Gamble, Derry DeBorja and Jimbo Hart, all of them whittled into sharp shape after touring in support of Southeastern and its chart-topping follow-up, Something More Than Free. For the first time since 2011's Here We Rest, Isbell's backing band receives co-billing on the album – a move that's well-deserved.
There was something about his songwriting on Southeastern that perhaps felt more accessible than ever before with new and old fans alike, and since 2013, the expectations for Isbell have continued to rise to seemingly unachievable levels. Yet, a couple of years following Southeastern he met and exceeded those expectations with the Grammy-winning album, Something More Than Free. And now, in 2017, Isbell is facing the most anticipation he has likely ever faced in his career with the release of The Nashville Sound.
Isbell is a master storyteller, he's also a master autobiographer, and opening The Nashville Sound is a pensive look at, potentially, his own career and life. As he sings "Am I the last of my kind?" over and over, he's asking an honest question, one that could easily be applied to the musical world in which he lives. But it's also a question that he could be applying vicariously to the working class across the country, those who convinced themselves that they were the forgotten minority leading up to last year's election cycle. And still, it could simply be an homage to the great John Prine, a living legend whom Isbell (and his wife and member of the 400 Unit, Amanda Shires) has grown closer and closer with over the last few years.
The same interpretive trajectory could be placed on any of the songs found on The Nashville Sound. The flat-out rocker, "Cumberland Gap," has one of the greatest lines of any Isbell tune—"As soon as the sun goes done / I find my way to the Mustang Lounge / And if you don't sit facing the window, you could be in any town" — and while one fan might interpret that as a nod to the indistinguishable similarities found in Small Town U.S.A., another may go deeper and look at the overall theme of the song as one that follows the struggles of an alcoholic, something Isbell knows a thing or two about.
That's the beauty of a Jason Isbell tune, and even more, the beauty of a Jason Isbell album. In a recent interview, he said, "I have learned that the process of trying to figure out what my album is about is better suited to critics and listeners than to me," and he leaves that door wide open on his latest effort.
The one thing that is not left to interpretation, though, is the completeness of The Nashville Sound. Never has Isbell constructed a more unabridged record than this; though fans and critics may enjoy jumping on one individual track and heralding it as Isbell's crowning achievement, the real story with The Nashville Sound is simply how perfect it is as one cohesive, full LP.
The opening trio of songs includes the aforementioned "Last of My Kind" and "Cumberland Gap," neatly wrapped up with "Tupelo," a track that starts out by continuing the "struggles of an alcoholic" interpretation that preceded it. The most powerful movement on The Nashville Sound is found in the next few tracks, though, as Isbell and company — keyboardist Derry deBorja, drummer Chad Gamble, bassist Jimbo Hart, guitarist Sadler Vaden, and fiddler Amanda Shires — shine on "White Man's World," "If We Were Vampires," and the magnum opus, "Anxiety."
The former two tracks have been unveiled to fans prior to the album's release, and both have been examined ever so closely. In "White Man's World," Isbell is clearly stating where he's at in both the current political landscape and the music industry. The title itself beckons the listener to consider the results of the presidential election of 2016, but the lyric, "Momma wants to change that Nashville sound / But they're never gonna let her," seems to take aim at Music City.
That song is followed with what many are proclaiming to be one of Isbell's most beautiful and heartbreaking tunes ever, "If We Were Vampires." A reflective look at life, death, and love, "Vampires" is an emotional reminder of both Isbell's and Shires' staggering talent, being able to shift from a politically- and professionally-motivated track like "White Man's World" to a crushing song like this, one that reveals more and more poignant depth with every spin.
"Anxiety," though, is the song that will be discussed and praised by fans and critics a hundred years from now. It is Isbell's masterpiece, and the most dynamic, well-rounded song on The Nashville Sound, not because it merely showcases the frontman's talents (though it does), but because it highlights all of the powerful and moving aspects of the 400 Unit. From start to finish, every single instrument and note, every single lyric, joins together to create an achievement that serves as a reminder of the power of Americana music, and Isbell's place in the genre's history books.
As that second movement wraps up, the rest of the record flows smoothly into "Molotov," the quintessential "song of the summer" if Isbell ever wrote one, and "Chaos and Clothes," a song that we think was inspired by Isbell's good friend, Ryan Adams. (We're serious. Spend some time with the lyrics and compare it to the heartbreak that Adams has experienced over the last few years, coupled with the themes in "I See Monsters" from 2004's Love Is Hell—not to mention the "black metal T-shirt" reference.)
From there, Isbell gives fans the final two tracks, "Hope the High Road" and "Something to Love," the former highlighting his rock and roll personality and the latter his softer, singer-songwriter edge. That last track takes the thoughts of the opening tune and, though it doesn't answer the question "Am I the last of my kind?," it does provide the listener with a bit of guidance as the record comes to a close: "I hope you find something to love / Something to do when you feel like giving up / A song to sing or a tale to tell / Something to love, it'll serve you well."
If Isbell ever pondered giving up — if he ever truly questioned whether he is the last of his kind — he has found hope in singing songs and telling tales, and he has never told a more complete tale than that of The Nashville Sound. As the needle runs out on side B, you won't be putting the record back in its sleeve; you'll flip it back and start listening all over again as you try to determine what exactly that Nashville sound is, and why it's so damn important.
"The Last of my Kind"
Opening the album on a mellow note, "The Last of my Kind" spins the sad story of an Arkansas native who loses himself – geographically, emotionally, mentally – within the big city. "Nobody here can dance like me / Everybody clapping on the one and three," Isbell laments during the initial 30 seconds, delivering the album's first of many killer lines. Behind him, the 400 Unit fades in and out, waiting until the song's second half to make a proper entrance.
"Cumberland Gap"
File this pissed-off rocker beside "Decoration Day" and "Go It Alone." Recasting himself as a boozehound in an Appalachian coal-mining town, Isbell feels angry and spiteful, his horizons filled with mountains whose peaks have been blasted away in search of cheapening coal. He funnels that fury through distorted guitars and an epic chorus, nodding to his days with the Drive-By Truckers along the way.
"Tupelo"
Isbell is on the move once again. This time, he's driving back home, reeling from a bad breakup and a hard fall off the wagon. His plan? Finish the last of his "plastic cup of real good wine," sober up and relocate to northern Mississippi, where "the summer is blistering, so there ain't no one from here that'll follow me there." Punctuated by some swooning slide guitar, "Tupelo" is equal parts Southern soul and sad-eyed folk, the soundtrack for slow Sunday afternoons.
"White Man's World"
Taking a hard look at his place in Trump's America, Isbell tackles social privilege, gender politics and the desire to shield his daughter from the harsh realities of a country that remains divided along cultural lines. The anger is pointed and palpable here, hitting a high mark during the song's solo section, where Isbell's electric guitar and Amanda Shires' fiddle chase each other in fuming circles.
"If We Were Vampires"
The Nashville Sound's stunning standout, "If We Were Vampires" shatters the love song's familiar mold, focusing not on the never-ending power of Isbell's affection for Shires, but the pair's limited time together. "This can't go on forever / Likely one of us will have to spend some days alone," the two sing during the song's chorus, acknowledging their own mortality. The real gut punch arrives during the second verse, though, where Isbell's voice briefly falters, a sign of an emotional recording session.
"Anxiety"
A mid-tempo pop/rock song at its core, "Anxiety" is bookended by two sections of dramatic, guitar-driven crunch, like the musical manifestations of the unease that gives the song its name. On a track dominated by first-rate lyrics, it's those instrumental breaks – particularly Sadler Vaden's chromatic guitar riffs, which could've found a home on Tom Petty and the Heartbreaker's Mojo – that steal the show.
"Molotov"
Caught halfway between Tom Petty's poppy punch, Bruce Springsteen's anthemic nostalgia and R.E.M.'s ringing guitars, "Molotov" takes a look backward, setting its scene "in the year of the tiger, 19something." "I hope you still see fire inside of me," Isbell sings to a former flame, seconds after rhyming "three wishes" with "being facetious." Well played.
"Chaos and Clothes"
"Chaos and Clothes" roots itself in the double-tracked vocals and fragile beauty of Elliott Smith's bedroom recordings. It's like nothing Isbell has ever made before, with soft, woozy textures replacing the bombast of the two songs that flank it. "You're in the fight to the death, my friend," he sings to the song's narrator, a heartbroken single man struggling to forget the woman who's left a trail of memories in his mind and the occasional garment in his apartment.
"Hope the High Road"
With a disappointing election behind them and an uncertain future on the horizon, Isbell and the 400 Unit mix politics with benevolence on this optimistic heartland rocker. "Wherever you are, I hope the high road leads you home again to a world you want to live in," goes the final chorus, addressing the marginalized, the left out and the pissed-off.
"Something to Love"
A close cousin to Something More Than Free opener "If It Takes a Lifetime," "Something to Love" unfolds like a front-porch folk song, mixing coed harmonies with brushed percussion and understated guitar. Here, Isbell sings to his toddler daughter, willing her the resolve, patience and curiosity needed to survive in modern times. "I don't quite recognize the world you'll call home," he admits, urging her to "find what makes you happy, girl, and do it 'til you're gone." That's good advice.