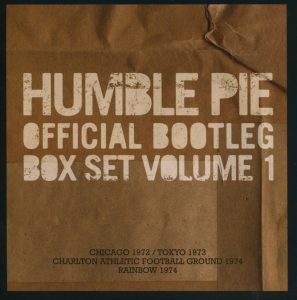 This new 4CD boxed set that lovingly documents the final musical years of a true legend, a great songwriter, musician, and formidable frontman – Steve Marriott. Steve was sadly taken from us prematurely at the age of 44 on the 30th April 1991. Vocalist and guitarist in such great bands as Small Faces and Humble Pie, Steve clearly had so much more to give, as is evidenced here, and this box set attempts to pay respect to the inspirational talent that is Steve Marriott by compiling four of his last ever live shows from his final year with us in 1991
Humble Pie: Official Bootleg Box Set Volume 1 collects four gigs from the English rockers on three CDs recorded between September 1972 and June 1974 with the line-up of Steve Marriott (guitar/vocals/harmonica/keyboard), Clem Clempson (guitar/vocals), Greg Ridley (bass/vocals) and Jerry Shirley (drums) supported by The Blackberries on background vocals.  This collection has been curated by founding member Shirley, who drew upon the band's numerous bootleg recordings to select ones which he felt were of a high audio and performing standard.
The first show, on Disc One, hails from Chicago's Arie Crown Theatre on September 22nd, 1972 and features band originals alongside blues-drenched covers of "Honky Tonk Women," "Hallelujah (I Love Her So)," "I Don't Need No Doctor," and more.  This disc also begins a Tokyo show from May 1973 which is continued on Disc Two.  Shirley recalls in his liner notes that Jeff Beck (then playing Tokyo with Beck, Bogert and Appice) attended the concert, making Clempson (who had replaced Peter Frampton in Humble Pie in 1971) nervous as he played the guitar solo to Ray Charles' "I Believe to My Soul."  The show also features scorching takes on Holland/Dozier/Holland's Motown classic "(I'm A) Road Runner" and Marriott's "Steve's Little Jam" and"30 Days in the Hole."
Disc Three kicks off with the band's May 18, 1974 concert at the Charlton Athletic Football Ground in which they shared a bill with The Who, Maggie Bell, and Bad Company (in one of their first major appearances).  Playing alongside fellow onetime Mods The Who, Marriott opened the show with The Small Faces' "What'cha Gonna Do About It."  This disc concludes with a short four-song performance at London's Rainbow Theatre on June 6th, 1974, broadcast for U.S. television's The Midnight Special.  The group tackled three band originals plus Eddie Cochran's "C'mon Everybody," a staple performed at all of the shows preserved here.
Jerry Shirley shares his memories in the full-color 16-page booklet included within the clamshell box.  Though sound is mostly listenable throughout, a disclaimer helpfully notes that these far-from-pristine recordings were originally made as audience bootlegs, and aren't up to studio quality (or professionally-recorded live quality) standards, but are significant nonetheless for their historical importance in the band's arc.
Humble Pie's Official Bootleg Box Set Volume 1 are available now
CD 1
Only One Woman – Marbles
It's All Over Now, Baby Blue
Warm Ride
Bad Girl – Rainbow
Night Games
O.S.
Girl from Uptown – Michael Schenker Group
Island in the Sun – Alcatrazz
Hiroshima Mon Amour – Alcatrazz
Since You Been Gone (Live) – Alcatrazz
God Blessed Video – Alcatrazz
Will You Be Home Tonight – Alcatrazz
Skyfire – Alcatrazz
Blue Boar – Alcatrazz
Stand in Line – Impellitteri
Tonight – Impellitteri
Midnight Crossing (1989 Demo) (*)
Hit and Run – Forcefield
Let the Wild Run Free – Forcefield
All Night Long (2015) – Graham Bonnet Band (*)
CD 2
Look Don't Touch
Afterlife – Blackthorne
We Won't Be Forgotten – Blackthorne
Don't Kill the Thrill – Blackthorne
Breakaway
Killer
Hunting Time – Anthem
Hungry Soul – Anthem
Love in Vain – Anthem
Perfect Crime – Impellitteri
Fighters Fist – Taz Taylor
Radio Luxembourg – Taz Taylor
You Are Your Money (Demo) – Elektric Zoo (*)
Lost in Hollywood
My Kingdom Come – Graham Bonnet Band (**)
Mirror Lies – Graham Bonnet Band (**)
DVD
It's All Over Now Baby Blue
Danny
Only You Can Lift Me
Warm Ride
Can't Complain
I'm a Lover
The Way That It Is
Anthony Boy
Night Games
Island in the Sun – Alcatrazz
Hiroshima Mon Amour – Alcatrazz
God Blessed Video – Alcatrazz
Stand in Line – Impellitteri
Stand in Line (Alternate Version) – Impellitteri
The Mirror Lies – Graham Bonnet Band
Powerstation Live in Tokyo 1988 – Impellitteri
Stand in Line
Tonight I Fly
Leviathan
All Night Long
Secret Lover
Somewhere Over the Rainbow
Goodnight and Goodbye
Since You Been Gone
(*) previously unreleased
(**) previously unreleased on CD
Humble Pie, Official Bootleg Box Set Volume 1 (Hear No Evil/Cherry Red HNEBOX083, 2017) (Amazon U.S. / Amazon U.K. / Amazon Canada)
CD 1
Arie Crown Theatre, Chicago, September 22, 1972
Introduction
Up Our Sleeve
C'mon Everybody
Honky Tonk Women
I Wonder
Hallelujah (I Love Her So)
I Don't Need No Doctor
Hot 'n' Nasty
Four Day Creep
Shibuya Kokaido Tokyo, May 16, 1973
Up Our Sleeve
Tokyo Jam
C'mon Everybody
CD 2
Shibuya Kokaido Tokyo, May 16, 1973 (continued)
Honky Tonk Women
Steve's Little Jam
I Believe to My Soul
30 Days in the Hole
Road Runner
Hallelujah (I Love Her So)
I Don't Need No Doctor
Hot 'n' Nasty
Oh La-De-Da
CD 3
Charlton Athletic Football Ground, May 18, 1974
Introduction
What'cha Gonna do About It
Thunderbox
Sweet Peace and Time
30 Days in the Hole
Let Me Be Your Lovemaker
C'mon Everybody/I Want a Little Girl
I Don't Need No Doctor
Rainbow Theatre, London, June 6, 1974
Thunderbox
30 Days in the Hole
Sweet Peace and Time
C'mon Everybody