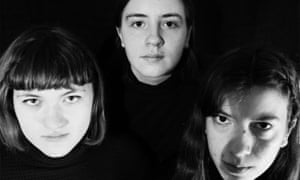 Superb C86 era retro indie but that's doing this brand new group a bit of a disservice, as the unusual arrangements and excellent lyrics make this unique and fresh sounding. This is bouyant, charming, charismatic pop!
Girl Ray are based in North London, are Poppy Hankin (vocals, guitar), Iris McConnell (drums), Sophie Moss (bass).
Girl Ray make sweetly sour lo-fi heartache pop with vocals wavering between cool and callow and songwriting ambitions towards the accomplished. Their latest single, Stupid Things "about crushing really hard on someone, and finding myself doing fucking ridiculous things, like watching films that they mentioned fleetingly or ordering their favourite drink at a bar", according to songwriter Hankin it could be a cover version of a Carole King song by a C86 type Indie Band Something about the quality of the production, the sound, the way the instruments are played and the spaces between them, suggests 1972. "It wasn't purposefully indie or lo-fi," explains Hankin, who met the other Girl Ray-ers at Finchley's Fortismere school, where they were a few years below Jess Glynne (and a few decades below Ray Davies of the Kinks). "We weren't exactly trying hard to do it, that's just how I wrote the song and the way it was produced." Lovers of 1972 might recognise the first two seconds of the piano intro, a recreation of the (guitar) opening to Julie Burchill's all-time favourite song. "We gave a copy of Todd Rundgren's I Saw the Light to the mixing guy as reference.
Girl Ray came together through a shared love of pop from Rundgren to Cate Le Bon and a shared loathing of "the stuff the girls in our class liked, "That and just being really cool," deadpans drummer McConnell. Naming themselves punningly after the avant garde artist Man Ray, they performed their first gig in south London. "It was absolutely terrible," Hankin says. "We were so out of tune."
Soon, Moshi Moshi – the small label that has released records by Florence + the Machine, Hot Chip and Lykke Li – signed them, and the band released their debut album this summer.