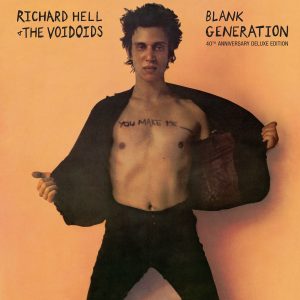 Rhino Records is planning 11 titles for this year's Record Store Day Black Friday–and two of them are fairly unexpected catalogue treats from two very different artists.
Richard Hell and the Voidoids will be celebrating the 40th anniversary of their debut album "Blank Generation" with a super deluxe reissue. Originally released on Sire Records in 1977, as the music world burned with Punk.
Richard Hell and his band were pioneers of the New York punk scene and this album is considered a seminal LP for the punk movement as a cornerstone of the scene. The title track was important, but this album is packed full of great songs.
The Blank Generation reissue includes previously unreleased alternate studio versions, out-of-print singles, rare bootleg live tracks from Richard Hell and the Voidoids' debut 1976 appearance at CBGB – seriously how much do you wanna hear that!
The record's booklet features an essay by Richard Hell, excerpts from his notebooks, unpublished photos of the band from Roberta Bayley, and even an interview with Julian by Hell himself.
First up, the label has announced an upcoming expanded edition on CD and LP of Richard Hell & The Voidoids' Blank Generation. Hell, a founding member of the band Television and one of the key figures of early punk rock in New York and beyond (his personal style of spiked hair and safety pins is said to have influenced Malcolm McLaren's Sex shop and the look of the Sex Pistols), formed The Voidoids with guitarists Ivan Julian and Robert Quine (later of Lou Reed's band in the early '80s) plus drummer Marc Bell (who a year later would change his name to Marky Ramone and drum for the Ramones). Blank Generation remains a touchstone of punk's original wave; Robert Christgau cheekily decreed it was perfect "for those very special occasions when I feel like turning into a nervous wreck." This expanded 2CD or 2LP edition, available November 24th as an "RSD First" release at 2500 units on each format, restores the album's original cover and running order on the first disc (remastered by the album's original engineer, Greg Calbi at Sterling Sound) and includes a 12-track bonus disc with alternate takes, live tracks recorded at legendary New York City punk club CBGB and more.
Richard Hell & The Voidoids, Blank Generation: 40th Anniversary Edition
CD/LP 1: Original remastered album (released as Sire SR 6037, 1977)
Love Comes In Spurts
Liars Beware
New Pleasure
Betrayal Takes Two
Down At The Rock and Roll Club
Who Says?
Blank Generation
Walking On The Water
The Plan
Another World
CD/LP 2: Bonus album
Love Comes In Spurts (Electric Lady Studios Alternate Version)
Blank Generation (Electric Lady Studios Alternate Version)
You Gotta Lose (Electric Lady Studios Outtake Version)
Who Says? – Plaza Sound Studios Alternate Version)
Love Comes In Spurts (Live @ CBGB – 11/19/1976)
Blank Generation (Live @ CBGB – 11/19/1976)
Liars Beware (Live @ CBGB – 4/14/1977)
New Pleasure (Live @ CBGB – 4/14/1977)
Walking On The Water (Live @ CBGB – 4/14/1977)
Another World (Ork Records Version – from Ork single 81976, 1976)
Oh (from Wayne Kramer Presents Beyond Cyberpunk – MusicBlitz 30005, 2001)
1977 Sire Records Radio Commercial