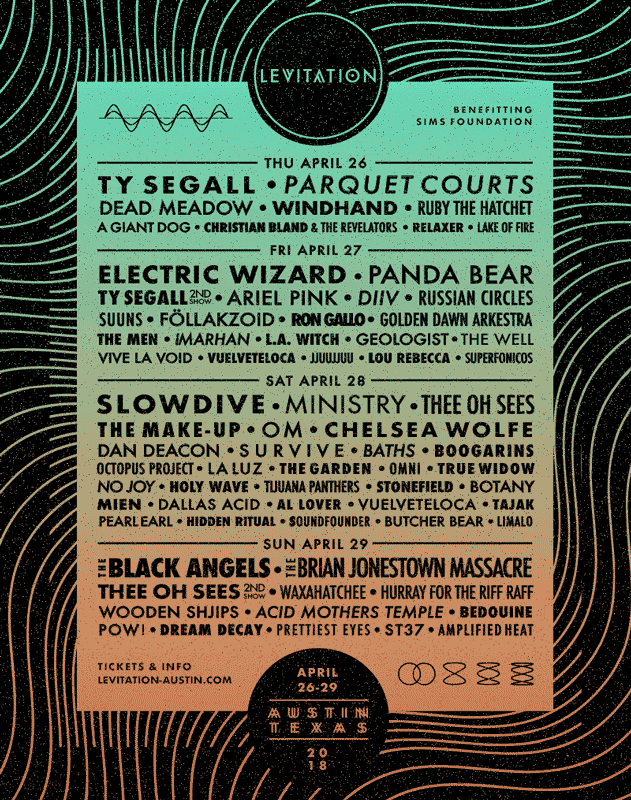 The 2018 weekend will be hosted in downtown Austin venues including Stubb's Austin, Mohawk Austin, Barracuda Austin, Empire Control Room & Garage, Cheer Up Charlies and more. 
Levitation will also spread through the city's cafes, galleries and record stores with pop-up performances, art happenings, food events, and more.  
2018 will utilize Austin's downtown venues that have helped cultivate the city's legendary music scene – bringing a more intimate experience, with longer sets from headliners alongside all the conveniences of the city. Looking forward to another great weekend with friends from around the world in Austin, Texas!
LEVITATION 2018 LINEUP
THURSDAY, APRIL 26
TY SEGALL • PARQUET COURTS • DEAD MEADOW • WINDHAND • RUBY THE HATCHET •  A GIANT DOG • CHRISTIAN BLAND & THE REVELATORS • RELAXER • LAKE OF FIRE
FRIDAY, APRIL 27
ELECTRIC WIZARD • PANDA BEAR • TY SEGALL (2ND SHOW) • ARIEL PINK • DIIV • RUSSIAN CIRCLES  • SUUNS• FÖLLAKZOID • RON GALLO • GOLDEN DAWN ARKESTRA • THE MEN • IMARHAN • L.A. WITCH • GEOLOGIST • THE WELL •  VIVE LA VOID • VUELVETELOCA • JJUUJJUU • LOU REBECCA • SUPERFONICOS
SATURDAY, APRIL 28
SLOWDIVE • MINISTRY • THEE OH SEES • THE MAKE-UP • OM • CHELSEA WOLFE •  DAN DEACON • S U R V I V E • BATHS • BOOGARINS  • OCTOPUS PROJECT • LA LUZ • THE GARDEN • OMNI • TRUE WIDOW •  NO JOY • HOLY WAVE • TIJUANA PANTHERS • STONEFIELD • BOTANY  • MIEN • DALLAS ACID • AL LOVER • VUELVETELOCA • TAJAK •  PEARL EARL • HIDDEN RITUAL • SOUNDFOUNDER • BUTCHER BEAR • LIMALO
SUNDAY, APRIL 29
THE BLACK ANGELS • THE BRIAN JONESTOWN MASSACRE • THEE OH SEES (2ND SHOW)  • WAXAHATCHEE • HURRAY FOR THE RIFF RAFF  • WOODEN SHJIPS • ACID MOTHERS TEMPLE • BEDOUINE • POW! • DREAM DECAY • PRETTIEST EYES • ST37 • AMPLIFIED HEAT • RISHI DHIR
The 2018 weekend will be hosted in downtown Austin venues including Stubb's, Mohawk, Emo's, Barracuda, Empire, Cheer Up Charlies and more. Check out the schedule below and grab tickets to the shows you want to see: