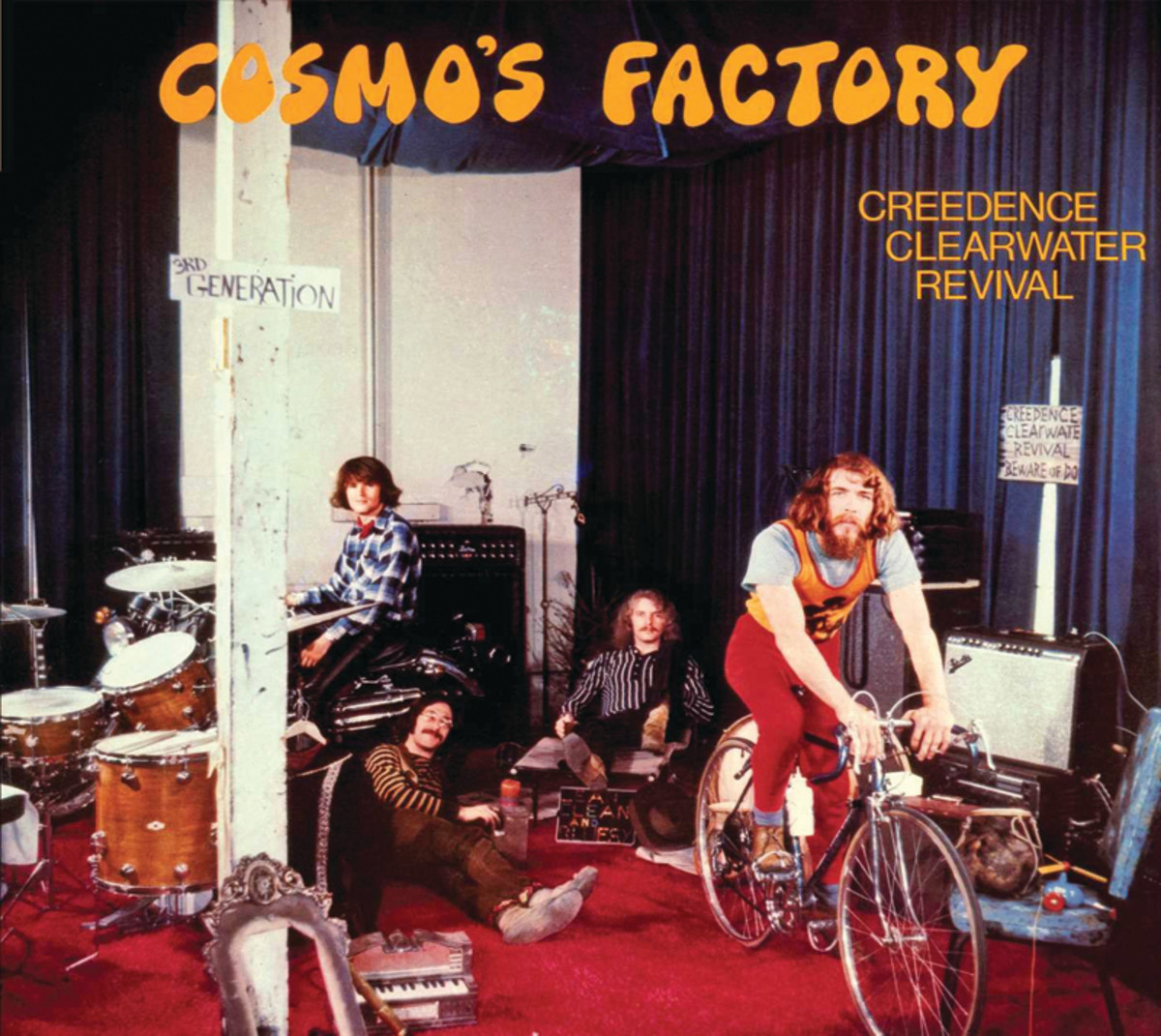 "It should be obvious by now that Creedence Clearwater Revival is one of the great rock and roll bands. 'Cosmo's Factory,' the group's fifth album, is another good reason why." – Rolling Stone, 1970
46 years ago today, Cosmo's Factory was released on the 22nd August 1970.
CREEDENCE CLEARWATER REVIVAL started a nine-week run at No.1 on the US album chart with their fifth studio album "Cosmo's Factory". The name of the album comes from the warehouse in Berkeley where the band rehearsed. Bandleader John Fogerty was so insistent on practicing (nearly every day) that drummer Doug "Cosmo" Clifford began referring to the place as "the factory".
Creedence Clearwater Revival released three classic albums in 1969. Their first in 1970 came after a small break for leader John Fogerty, who turned in some of his band's greatest songs here. ("Lookin' Out My Back Back Door" and "Who'll Stop the Rain" is just the tip.) Creedence would tap out soon – they released another album five months later that was the beginning of the end – but they're at the top of their game on 'Cosmo's Factory.'
The band included guitarist brothers John and Tom Fogerty, bass player Stu Cook and Clifford – had signed in 1964 to the San Francisco based Fantasy Records, an independent jazz label. Fantasy co-owner Max Weiss initially named the group the Golliwogs (after the children's literary character, Golliwogg), apparently to cash in on a wave of popular British bands with similar names. The band, who hated the name, then suffered a setback in 1966 when the draft board called up John Fogerty and Doug Clifford for military service. Fogerty at least managed to enlist in the Army Reserve instead of the regular Army, while Clifford did a tenure in the United States Coast Guard Reserve, the following year, new management at Fantasy extended their deal along with agreement to a name change. The group arrived at their new title Creedence Clearwater Revival from three elements. From Tom Fogerty's friend Credence Newball's name they added an extra 'e', making it resemble a faith or creed; 'clear water' came from a TV commercial for Olympia beer; and finally 'revival' spoke to the four members' renewed commitment to their band. The raw edge of John Fogerty's voice, or the driving force of the rhythm section, CCR sounded different to everything else, delivering for the most part, short sharp songs, a rare thing in 1967, the year of psychedelic jams and long freakouts. Not totally immune, the band's other side manifested itself in long, guitar-driven versions of selected songs on their album, including 8 minutes of Suzie Q.
Creedence Clearwater Revival – Cosmo's Factory [Full Album] Concord/Fantasy, 2008 RM. Video with album liner notebook. Album is 1 disk of 14 tracks: original 11 track recording remastered plus 3 bonus tracks. Cosmo's Factory is the fifth studio album by CCR released in July 1970. All songs written and composed by lead guitarist and vocalist John Fogerty except as noted
Side A 1. Ramble Tamble 0:00 2. Before You Accuse Me 7:10 3. Travelin' Band 10:37 4. Ooby Dooby 12:45 5. Lookin' Out My Back Door 14:52 6. Run Through The Jungle 17:25
Side B 1. Up Around The Bend 20:28 2. My Baby Left Me 23:11 3. Who'll Stop The Rain 25:29 4. I Heard It Through The Grapevine 27:27 5. Long As I Can See The Light 39:00