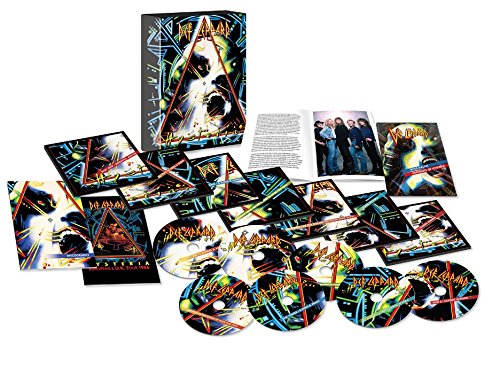 In very many ways, Def Leppard's fourth studio album Hysteria was their biggest release and a new box set due this year looks to prove that, the latest edition of the album, which is set to arrive in stores August. 4th nearly 30 years to the day after its original release, a new 3CD deluxe edition, a 5CD/2DVD box set (both boasting material not on the 20th anniversary deluxe edition released in 2007) and vinyl formats.
"During our 40-year career, we've been blessed to have experienced some incredible highs, work with some amazing people and enjoy success beyond our wildest dreams," said singer Joe Elliott . "The Hysteria album was a labour of love, of that there is no doubt. But we've always believed you get what you give, and the longevity of the album is testimony to our sold belief in ourselves and the music."
Hysteria was the culmination of more than three years of work and triumph over incredible odds following the release of the English rockers' breakthrough Pyromania in 1983. That record took the group's hard rock style and infused it with an unapologetic land grab for pop radio, with the help of co-writer/producer Robert John "Mutt" Lange, who'd helped AC/DC create a smash with new vocalist Brian Johnson on 1980's Back In Black.  Tracks like "Photograph," "Rock of Ages" and "Foolin'" all reached Top 40, with the album itself peaking at No. 2 (well above its standing in the U.K.).
But Lange, citing exhaustion, declined to produce the band's next album, and sessions with songwriter Jim Steinman and Lange's engineer Nigel Green proved fruitless too. Then shock and tragedy struck when, on the last day of 1984, drummer Rick Allen suffered a horrific car accident that cost him his left arm. The rest of the band–frontman Joe Elliott, guitarists Steve Clark and Phil Collen and bassist Rick Savage–all stood by his side, and Allen eventually devised a system of electronic drums that he could play with his limbs. At this point, Lange returned to the producer's chair, and the album was finally done (after another, minor car accident suffered by Lange in the spring of 1987.
Hysteria was saddled with lofty expectations by the band's label, Phonogram Records: in order to break even on the generous recording bill, the album had to sell five million copies–no small feat, even with Pyromania having gone six times platinum in America, their most successful market. Fortunately, the media attention paid to the band's inconceivable recovery (which lent the album its title) meant that Europe was more receptive than ever, which helped offset the initial slow sales in the States.
Then, after only two of the three Hysteria singles cracked the Top 40 (with the title track becoming their first Top 10 in the spring of 1988), the fourth a stadium rattler called "Pour Some Sugar On Me"–finally cracked the code, rocketing to No. 2. From there, Hysteria was a bona fide smash, with another chart-topper ("Love Bites") and two Top 20s ("Armageddon It" and "Rocket") pounding the charts through 1989. The album more than satisfied Phonogram's goals, ultimately selling over 12 million copies in America and another 13 million worldwide. And while an intended quick follow-up (1992's Adrenalize) was hindered by Clark's alcohol problems and eventual passing in 1991, Def Leppard's wild ride was unstoppable.
Hysteria will bow this summer in four formats:
A 5CD/2DVD super deluxe edition includes the remastered album; two discs of singles, B-sides, remixes and live tracks; and, for the first time on CD, two discs of audio from the band's bestselling video Live: In the Round, In Your Face. One DVD collects promo videos and U.K. television appearances, while the other features the band's informative appearance on the Classic Albums documentary series where they discuss recording the album and perform acoustic versions of the LP's biggest hits. The box comes packed with four books (a "story of," a collection of photographs by Ross Halfin, a discography, a replica of a Hysteria Tour program) and a replica tour poster.
The 3CD deluxe edition couples the remastered album with the two Live: In the Round, In Your Face discs.
A vinyl edition finally places the nearly hour-long original album on 2 LPs for the first time. The band's official site will also offer color variants.
A 1CD "Vanilla" edition offers the new remaster.
Hysteria: 30th Anniversary Deluxe Edition