Neutral Milk Hotel's In The Aeroplane Over The Sea is one of the great cult records. Issued in 1998, it's full of enigmatic lines, like "Now she's a little boy in Spain/Playing pianos filled with flames", and Jeff Mangum's raw performances are enticing. In The Aeroplane Over The Sea was expected to sell around 5,000 copies, but it's sold closer to half a million and Jeff Mangum's influence can be heard in the next generation of indie folk bands like The Decemberists and Arcade Fire.
For the most part, the mythology around Neutral Milk Hotel has existed beyond their control. Their singer and leader, Jeff Mangum, is certainly a part-recluse, but beyond anything he's simply a man who called it quits at the very moment his band saw their name in lights. By shunning interviews, he's subsequently been billed as either a JD Salinger-like enigma or a modern-day Syd Barrett. These are two exaggerated interpretations, coined largely because the band, who split in 1999, have barely said a word since then.
The trouble is, they departed with a record that remains hard to explain. Unintentionally, they timed their disbandment with the rise of music-forum discussions,  Neutral Milk Hotel ended just when mythology became a crucial factor in propelling a band's reputation, and in the absence of anything to diminish them, their reputation simply just grew and grew .
That's not to say the 1998 album that made their name, In the Aeroplane Over the Sea, isn't a phenomenal record. Born from Mangum's bizarre, brutally heartfelt interpretation of The Diary of Anne Frank, it shuns reality and historical interpretations for surrealist imagery, Bulgarian street music, drone sections and a lifetime's supply of fuzz pedals.
The first release under the Neutral Milk Hotel moniker was the 1994 EP "Everything Is", a short collection of tracks featuring Mangum. On the band's full-length debut album "On Avery Island", which followed shortly thereafter, Mangum was joined by childhood friend and frontman of the band Apples In Stereo Robert Schneider who contributed production and instrumentation. Upon the album's release, the full band was formed and extensive touring began.
"In the Aeroplane Over the Sea" went on to inform the following decade's biggest alternative breakthroughs, from Arcade Fire's rousing collective cries to Beirut's well-travelled spirit. You can even hear the splintering emotion mirrored on Bon Iver's cabin-feverish debut, For Emma, Forever Ago. And the record is so crammed full of the frontman's subtle, autobiographical references, it's still being decoded 18 years on. By disappearing, they allowed word of mouth to set the agenda and "In the Aeroplane Over the Sea" attained the status of being the one indie record you had to hear. Mangum's unique lyricism, combined with his reclusion, only enhanced fever around the band.
By the time the wheels came off, Neutral Milk Hotel were already enjoying cult status. One of the reasons they split is that Mangum found it hard to deal with the attention he started to get. "Jeff's a very private person," Bill Doss, co-founder of the Olivia Tremor Control, told the Guardian, "and kids were freaking out over him. [They'd] be following him around, these little packs of kids staring at him. It weirded him out, and he just sorta backed off."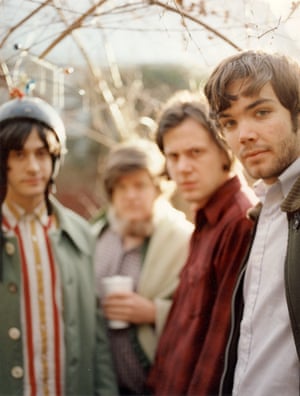 The first NMH albun, On Avery Island, had sold 5,000 copies. The band's early converts were on board for life, and shows soon had the status of being emotionally overwhelming, must-see experiences. But the group still enjoyed the freedom to write and record with little-to-no expectation, sharing communal spaces in Athens, Georgia; making music with zero regard for time of day or final product.
That goes some way to explaining Mangum's sudden reluctance to pursue the project as soon as it took off. Involved in cassette culture and DIY collectives from an early age, music was a free-spirited outlet for him. Once he realised it was not what he had imagined it to be, he decided enough was enough., in a rare interview in 2002: "I went through a period, after Aeroplane, when a lot of the basic assumptions I held about reality started crumbling. I guess I had this idea that if we all created our dream we could live happily ever after. So when so many of our dreams had come true and yet I still saw that so many of my friends were in a lot of pain … I realised I can't just sing my way out of all this suffering." Given how many bands today tend to press on before fading out with a whimper, his decision to go out with a bang seems admirable.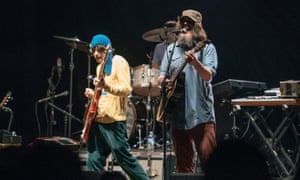 A reunion tour in 2013 did little to tarnish the Neutral Milk Hotel legacy. Proceeds went to a charity aimed at improving the lives of Mongolian children, and they weren't billed beyond the hype in nostalgic festival headline slots. And by not caving in and releasing another record in conjunction with a tour, they helped keep things on their terms. Everyone's accounts of the reunion shows are wildly different. Depending on who you ask, these comeback gigs were either religious experiences or bitter disappointments. But most crucially, Neutral Milk Hotel remained a source of personal investment. Every one of the band's fans has their own epiphany, an individual account of the first time they were struck down by what they heard. By opening up these moments to a new generation, or simply those who missed the boat last time round, Mangum finally managed to hold the ropes of his band's mythology.
The band's never released a followup album, so their non-album material is pored over more than most. 'Engine' turned up on the b-side of the 'Holland, 1945' single. The version of 'Holland, 1945' was recorded in the London Underground – a train can be heard approaching at the end, and a single person clapping.