Fairport Convention generally have the tag of being 'the all-time folk-rock band of Britain' and deservedly so.
"They do in a very worthy sense have the right to be crowned the most important folk-rock band ever"
"They began with a much more American focus to their music, which is often forgotten. It was much less traditional than it became a few years later. They fell back more into being a traditional folk band, but with all the rhythmic and rock sensitivity that would come to them. Back in 1969, Liege & Lief was the seminal album which established British folk-rock as a distinct genre, separate to the hippy mysticism of America's west coast or the earnest finger-in-the-ear traditionalism of the folk club purists. Paving the way for everyone from Steeleye Span to Lindisfarne, it mingled rock & roll attitude with a sense of indigenous history and myth that stretched back deep into folk memory.
In the first month of the 1970s. Fairport Convention had performed all be it miming, on the British TV institution Top Of The Pops in August 1969, and come within one place of the top 20, with 'Si Tu Dois Partir,' their French version of Bob Dylan's 'If You Gotta Go, Go Now.'
That helped the Fairports album it came from, "Unhalfbricking", climb to No. 12 in the UK chart. Then, on 17th January, 1970, they entered the bestsellers with a follow-up that, like its predecessor, has become a folk music cornerstone: Liege & Lief, it was the group's third album inside a year, after Unhalfbricking and before that What We Did On Our Holidays. All of that during a period in which a car crash claimed their original drummer Martin Lamble.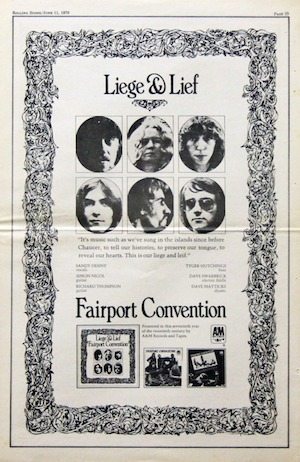 Sometimes it was difficult to tell traditional tunes apart from those written by the band. Although the supernatural epic "Tam Lin" and adulterous tragedy "Matty Groves" are plainly trad, the beautiful "Crazy Man Michael" was written by guitarist Richard Thompson and violinist Dave Swarbrick, while the melancholy "Farewell Farewell" is an old tune reworked with new lyrics — possibly in response to the fatal road accident on tour .
"Some of those members of Fairport did play with rock bands, including Dave Pegg who played with Jethro Tull, too. But they do in a very worthy sense have the right to be crowned the most important folk-rock band ever.
"I thought I might find something quirky, but I do have to go back to Liege And Lief because it's the one that put them on the map. It's the one you can't escape, their biggie – their Aqualung, if you like!"
1. Come All Ye – 00:00 (Denny, Hutchings)
2. Reynardine – 05:02 (traditional – arr F C)
3. Matty Groves – 09:33 (traditional – arr F C)
4. Farewell Farewell – 17:44 (Thompson)
5. The Deserter – 20:24 (traditional – arr F C)
6. Medley – 24:50 (traditional x4 – arr Swarbrick, F C)
7. Tam Lin – 28:58 (traditional – arr Swarbrick)
8. Crazy Man Michael – 36:12 (Thompson, Swarbrick)
Sandy Denny – Lead Vocals
Richard Thompson – Guitars
Simon Nicol – Guitars
Ashley Hutchings – Bass Guitars
Dave Swarbrick – Violins and Viola
Dave Mattacks – Drums and Percussion
Island Records 1969