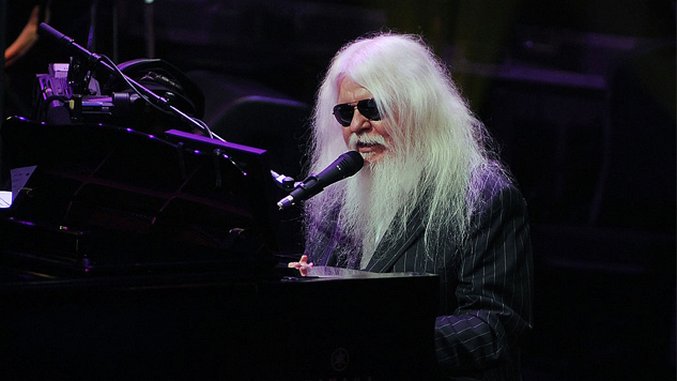 Right after Leon Russell graduated from Will Rogers High School in Tulsa, Oklahoma, in 1959, the young musician had to make a decision. Should the 17-year-old kid go to Tulsa University, as he had planned, or should he accept an offer to go on the road as Jerry Lee Lewis's guitarist? Attend ROTC drills on the quad or play for screaming girls in high school auditoriums? , He hit the road.
Leon Russell, The Journeyman who died Sunday at age 74, kept making similar decisions all his life. He continually put himself in unlikely situations to test and extend himself as a musician. He was willing to play Texas honky-tonk with Willie Nelson, British pop-rock with Elton John, folk-rock with Bob Dylan, bluegrass with the New Grass Revival and gospel-soul with Aretha Franklin. He responded to every situation by mastering the new territory and then adding something that was indelibly his own: a bluesy, churchy shuffle that became known as the "Tulsa Sound."
After a few months with Jerry Lee Lewis, Russell moved to Southern California, where he teamed up with Elvis Presley's virtuoso guitarist James Burton and became a top L.A. session musician, playing on such landmark albums The Byrds Mr. Tambourine Man, The Beach Boys Pet Sounds, Flying Burrito Brothers  Burrito Deluxe and the Rolling Stones' Let It Bleed.
This was mostly session work that went uncredited on record sleeves in those days. Russell returned to live playing when he joined Delaney and Bonnie and Friends, where he made good friends with then band members George Harrison and Eric Clapton. But the first time the wider public got to know him was in 1970 when he became the last-minute music director and band member for Joe Cocker's second American tour. Leon Russell had contributed production, arranging and songwriting ("Delta Lady") to the 1969 album Joe Cocker! and when the singer's British band fell apart just days before the tour was supposed to begin, he called Russell .
The now famous tour was called Mad Dogs & Englishmen. Joe Cocker and organist Chris Stainton were the Brits, while Russell and his assemblage of Okies and Californians were the crazed canines in the massive, 22-person troupe. With his long brown hair spilling out of a top hat and over his shoulders and a pointy Van Dyke beard filling his sternum, Russell played conductor and kept shows balanced on the narrow fence between spontaneity and chaos. He was bolstered by the rhythm section of fellow Okies: drummer Jim Keltner and bassist Carl Radle. The feature film and two-LP album, both titled Mad Dogs & Englishmen, documented the tour as a heady mix of rock 'n' roll hedonism and showmanship.
A year later Russell was a key participant in the Concert for Bangladesh at Madison Square Garden: playing piano behind his friend George Harrison, bass behind Bob Dylan and singing lead on a couple of songs himself, most notably the medley including "Youngblood".
When he was doing session work in L.A. in the '60s, he brought out many of his teenage friends, such as Keltner, Radle, guitarist J.J. Cale, future Bread leader David Gates, organist Dick Sims, drummer Jamie Oldaker, drummer Chuck Blackwell, guitarist Jesse Ed Davis and the great, underrated singer Roger Tillison. For a while, they all hung out at Russell's home/studio on Skyhill Road in the Hollywood Hills, writing songs and playing sessions.
They developed a slinky sound that Cale jokingly said was a result of trying to play the blues and getting it wrong. Leon Russell himself described it as playing country shuffles against a Jerry Lee Lewis boogie. A relaxed swing inhabited the music, perhaps a ghost echo of Bob Wills' nights at Tulsa's Cain Ballroom, lending a liquid lyricism to the hillbilly and blues influences these 1950s teenagers had swallowed. Every song boasted a deep groove, but these musicians were more likely to ease into it than to push into it.
British producer Denny Cordell met Russell during the Joe Cocker! sessions and partnered with Russell to co-found Shelter Records in 1969. But by 1972, Russell had tired of California and was itching to get back home. He now had some money on the basis of a No. 2 album (Carney), a No. 11 single ("Tight Rope") and the royalties from other people's versions of his songs such as "Delta Lady," "Superstar," "A Song for You," "This Masquerade," "Hummingbird" and "Roller Derby." Shelter Records, based in both L.A. and Tulsa, remained a small label, but it made a huge impact on popular music by releasing the landmark debut albums by J.J. Cale, Tom Petty, Willis Alan Ramsey, Dwight Twilley and Phoebe Snow. Cale's record, 1974's Naturally, provided the template for the subsequent careers of Eric Clapton and Mark Knopfler.
With that cash he bought seven acres on the bank of the Grand Lake of the Cherokees outside Tulsa and build a sprawling home/studio/guesthouse compound. Shelter Records hired legendary documentarian Les Blank to make a film about the tribal family that Russell gathered around himself and the music that they made. The resulting impressionistic movie, A Poem Is a Naked Person, captured the bizarre bohemia of those days. Underground comic artist Jim Franklin paints a giant octopus on the bottom of a swimming pool; Russell delivers over-the-top rock 'n' roll sermons from the piano, and country legends such as Willie Nelson, Eric Anderson and George Jones drop by.
"Roll In My Sweet Baby's Arms" 
Leon Russell's country phase found him adopting the guise of Hank Wilson , a sturdy country crooner that served as a front for four albums of mostly traditional tunes. This track, a sentimental standard extracted from the first album in that somewhat strange series, put him on the charts and gave him credibility as a legitimate country crooner. But Russell was so unhappy with the film that he kept it from theatrical distribution until 2015. Perhaps he had tired of the psychedelic circus he was leading. He dropped the rock 'n' roll gypsy persona and made a credible album of honky-tonk standards called Hank Wilson's Back, featuring Russell in a rhinestone cowboy suit. He resurrected that hillbilly persona for four albums in all, the last being 2001's Rhythm & Bluegrass, his second collaboration with the New Grass Revival.
Russell should be remembered not only for the records that bore his name but also for those he ushered into being—whether they were those Shelter debuts or the guilty-pleasure bubblegum-rock of Gary Lewis & the Playboys, the obscure Dylan single "Watching the River Flow" or the astonishing North Texas songwriting of Willis Alan Ramsey. And Russell should get the credit for spreading the gospel of the Tulsa Sound, whose influence rippled out in concentric circles beyond that small Oklahoma city.