To celebrate the 20th anniversary of the platinum selling 1996 record that scored the Welsh rock group their first commercial success, a special box set will be released. Taken from the "Everything Must Go" reissue, here's a preview of the book, featuring Nicky Wire's lyric sheets and photos from the era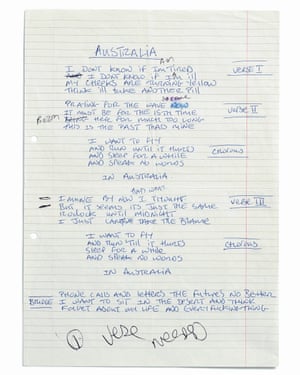 Australia, the fourth and final single release from the Everything Must Go. The song peaked at No 7 in the UK singles chart. Energised and upbeat, the song was adopted for TV advertisements by the Australian tourist board, but the song's lyrics are steeped in Wire's desire to escape Wales following Edwards's disappearance.
Originally released in May 1996, Everything Must Go was Manic Street Preachers' breakthrough album, garnering four hit singles; "A Design For Life", "Everything Must Go", "Kevin Carter" and "Australia". This limited edition, deluxe 12×12 box celebrates the 20th anniversary of this seminal record. Curated by the band, it contains the complete Nynex Arena show from 1997, fully restored and available here for the very first time. Also on DVD is an exclusive film about the album, Freed From Memories, directed by Kieran Evans (Kelly + Victor) plus music videos. The set is completed by with the remastered album on CD and heavyweight vinyl plus single B Sides and a 44 page book.
A Design For Life, the lead single from Everything Must Go, was a soaring, string-fuelled track that reached No 2 in the UK in April 1996 and was nominated for best British single and best British video and the Brit awards.