Ten Years After – 1968 – Who can ever forget Lee's ground breaking 11-minute performance of "I'm Going Home," at Woodstock? As the front man of the British Blues-Rock quartet Ten Years After" Lee (guitar), Chick Churchill (keyboards), Rick Lee (drums), and Leo Lyons (bass), Lee's laser speed guitar pyrotechnics were instrumental in the success of the group earning him the title "the fastest guitarist in the West." The band issued nine best-selling albums stateside between 1969-1974, among which were "Cricklewood Green" (1970), their biggest selling album featuring the hit single "Love Like A Man", and "A Space in Time," (1971) including the hit "I'd Love To Change the World," Lee became disenchanted with the pop direction the band was moving after signing with Columbia Records. He recorded seven solo albums over the next decade, but never regained the success of his tenure with Ten Years After.
With a blend of raw, direct blues and haunting psychedelic drenched sounds,Ten Years After Songs showcases one of rock and roll's most interesting – but also most criminally forgotten – bands.
Formed in 1966, and led by the late guitarist Alvin Lee, the band finally got people to take notice after their incendiary performance at the original Woodstock festival. From there, Lee – along with (non-related) Ric Lee on drums, Leo Lyons on bass and Chick Churchill on organ – pushed the boundaries of the blues-rock format and in the process made a string of classic albums.
The nucleus of Ten Years After coalesced in Nottingham, England in 1960 under the name Ivan Jay and the Jaycats (fronted, briefly, by their namesake). By '62, Jay had gone, along with several other early members, paving the way for a name change in '66 to The Ivy League, which featured the same four players who soon became TYA. Moving to London later that year, the band signed with manager (and later Chrysalis Records founder) Chris Wright, at which point they hit on the Ten Years After band name.
Ten Years After
A residency at The Marquee Club—ground zero for all young U.K. R&B/blues acts of the day—led to a contract with Deram Records, which was then developing as Decca's imprint for ambitious rock bands like The Move and the Moody Blues. Fifty years ago the company issued the band's self-titled debut which stood out in two key ways—the skill of guitarist Alvin Lee and the depth of the band's chops. While British blues deeply informed the album, no song sounded like another. The opener, I Want to Know had the bounce of jump-blues, A cover of The Blues Project's 1966 classic I Can't Keep from Crying Sometimes inspired a solo from Lee that mimicked the lilting smoothness of jazz guitarist Wes Montgomery, while the instrumental, Adventures of a Young Organ showed off the physicality of Churchill's keyboard. The set also found room for a country blues (Don't Want You Woman and a take on Willie Dixon's Spoonful that showcased the hard inflections of Alvin Lee's fingerings.
Undead
Ten months after their debut, TYA issued a live album that idealized their early love of jazz. The band offered an original take on the genre, giving swing beats a rich blues hue, while adding the amphetamine-fueled solos of British rock. A cover of Woody Herman's jazz standard At the Woodchopper's Ball took an already upbeat piece and threatened to break the sound barrier with it. A version of Gershwin's Summertime refigured it as the base for a blazing drum solo, with surprisingly buoyant results.
There was room, too, for deep blues in Spider In My Web as well as the debut of I'm Goin' Home a rockabilly salute which the group never cut in the studio. Not only doesn't Undead sound like any other Ten Years After release, it's their most blistering live document, surging ahead in a photo finish with Live at the Fillmore East a 1970 recording which didn't surface until 2001). The latter offers another side to the band, capturing them at their heaviest.
Stonedhenge
On the band's second album released in early 1969, Ten Years After upped their originality by relying on no outside writers. Lee dominated the credits, though the group equalized the instrumental input, dedicating one piece to Churchill's keyboards, and another to Lee's drums. The former's I Can't Live Without Lydia improbably mixed cocktail jazz with avant-garde dissonance, while Lee turned the children's rhyme Three Blind Mice into a showcase for tribal percussion. Lee added timpani to his arsenal for a richer flourish, while Lyons augmented his electric bass with a stand-up version, the former evident in his workout in Faro Frontman Lee introduced his skill as a scat singer on Skoobly-Oobly-Doobob a technique he sprinkled through later performances. Elsewhere, Lee's singing made clearer his love of Elvis, echoing The King's hunka-hunka inflections. The band added a spacier element in Going to Try which opens with Pink Floyd-like sound effects, building to an organ solo as explorative as any by The Doors' Ray Manzarek. The group used vocal harmonies for one of the only times in their career on Hear Me Calling pairing Lee with Mike Vernon, who produced the album, along with many by John Mayall and Savoy Brown. Here, and elsewhere, Lee's tremolo is as sweet as that of Fleetwood Mac's Danny Kirwan, while his proto-metal moves at the album's end echo the breakthroughs of the Jeff Beck Group and Led Zeppelin that same year.
Moody and brilliant, "A Sad Song" is one of Ten Years After's most haunting tunes. Alvin Lee sounds on the edge of total desperation as he recounts this tale of woe. As he sings, "the tears in my eyes are all that you'll find, the scars on my face just deepen my mind," you feel his pain, and the brutally sparse arrangement leaves room for his blues to shine. No wild solos, no studio trickery, no flash, just pure blues. This is as good as this style gets.
Sssh
When Ten Years After released 'Ssssh,' their third studio album (and fourth overall, counting the live 'Undead') in August of 1969, the British quartet had no idea that their still-nascent career was about to accelerate into overdrive through a serendipitous set of circumstances — within and beyond their control.
In terms of the former, the new album represented an unconditional improvement upon the often tentative and unfocused releases that preceded it by dispensing with some of the myriad psychedelic distractions of the day in order to crystalize the definitive blues-rock direction that would become the signature Ten Years After sound.
The opening 'Bad Scene' alternated between frantic boogie and breath-catching breaks, before the remainder of side one began addressing band leader Alvin Lee's wide-ranging suspicions about the opposite sex with growing intensity. First came the relatively tame and slippery, bite-sized 'Two-Time Mama,' then the more forceful, fierce, and fuzz-laden 'Stoned Woman,' and finally a fittingly lecherous cover of Sonny Boy Williamson's 'Good Morning Little Schoolgirl' that duly evolved into an extended instrumental jam.
Side two opened in a more relaxed, almost pastoral fashion via the acoustic guitar-driven, slowly building 'If You Should Love Me,' before segueing into the rather Mod-ish 'I Don't Know that You Don't Know My Name' (showcasing Chick Churchill on piano and Ric Lee's tribal bongos), the mumbling, stumbling groove of 'The Stomp,' and, wrapping things up, another gut wrenching, virtually proto-metallic reading of a classic blues grind — this time Lightnin' Hopkins' 'I Woke Up This Morning.'
Like many of their contemporaries, Ten Years After began life as a no frills blues combo. One of the highlights of the band's fourth album Ssssh, "Stoned Woman" tells the tale of a woman who is intent on keeping her man "stoned out his mind all the time." The band kicks up quote a racket here with a suitably raunchy lead from Lee, some groovin' organ work from Chick Churchill and the always dead-on rhythm section of bassist Leo Lyons and drummer Ric Lee. Like Cream or Fleetwood Mac, Ten Years After proved they could dish out unadulterated blues with the best of 'em.
As for circumstances beyond the band's control: the same month of 'Ssssh's' release found Ten Years After performing a career-making set at the historic Woodstock Festival, and the resulting publicity and acclaim put them on the map. Though Ten Years After had been kicking around the U.K. scene for a few years, it wasn't until their appearance at Woodstock in the summer of 1969 that American rock fans took note. Even more attention was paid after the Woodstock movie and soundtrack LP were released in 1970. At that point, Alvin Lee and band were turning heads everywhere. Credit moments like "I'm Going Home," a live staple in the band's set for a couple years that was even released as a three-minute edited single. This lengthy Woodstock version is definitive.
What's more, even the music fans who initially failed to recognize the significance of TYA's Woodstock appearance amid the sheer hype surrounding megastars like the Who, Janis Joplin and Hendrix (or had missed out on the event, altogether), eventually "got the memo" when the festival's official soundtrack LP emerged the following year, carrying the band's sizzling blast through 'I'm Going Home' highlight.
By then, the men in Ten Years After were already busy promoting their next album of era-defining blues-rock, 'Cricklewood Green,' with many more creative and commercial benchmarks still ahead, waiting to solidify their legacy for the ages. But you could make strong case that this golden period began with 'Ssssh' and the one-of-a-kind circumstances surrounding it's arrival.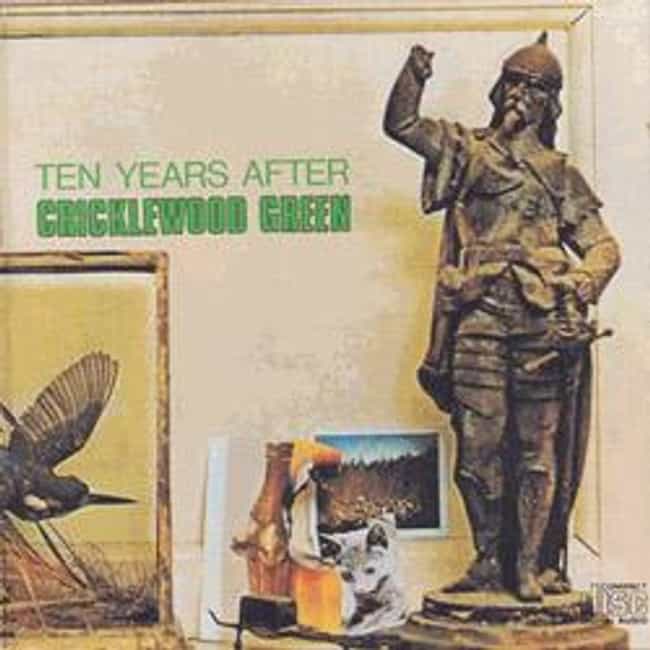 Cricklewood Green
TYA gained so much weight on their fourth studio album, they became one of the heaviest rock bands of the day. 1970's Cricklewood Green named for an outskirt of London, kicked off the new decade with a deeper, darker, and harder sound than the band ever offered before. Downplaying their earlier explorations of jazz and blues, 'Cricklewood' became a rock touchstone and a fan favorite, climbing to No. 14 on the U.S. pop charts. In a perfect '70s move, a cowbell clangs through the opening track, Sugar The Road while the organ burns with Memphis soul and Lee peels out one of his more muscular solos.
Sound effects waft through the tracks, offering coded signal to stoners. Some of the band's most famous songs can be found here, including 50,000 Miles Beneath My Brain electrified by a harpsichord hook, Love Like a Man the band's sole Top 10 U.K. hit, which appeared an interesting configuration. The A side of the single ran at the expected, 45 rpm rate (at a cut-down 3 minutes). The "b" side needed to be played at 33 and boasted a 7-and-a-half minute expanse, capturing a live version of the song from the Fillmore East. With a hypnotic riff propelling things, this growling groover burns bright for all of its eight minutes of glory. Ten Years After build intensity as they move along, something they were quite adept at – and once things get rolling, it's full-on guitar heaven. There's stellar interplay between Alvin Lee and organist Chick Churchill, and the band ebb and flow throughout. "Love Like a Man" was released in edited form as a single, and became their only UK hit, reaching the Top 10 in the summer of 1970.
While the set managed to carve space for a jazz-blues number Me and My Baby and a lovely acoustic reprieve Circles it culminates in a more representative, uber-heavy riff piece, As the Sun Still Burns Away a sexy come-on to the apocalypse.
A killer rock and roller from Ten Years After's fifth album, "Working on the Road" is another take on the standard travelers tale, filled with a vibrant urgency that is irresistible. Highlighted by chorus that is both so simple and so perfect, "Working on the Road" is topped by a blazing solo as Ten Years After cook along with such force that they risk derailing before finally regaining composure by song's end.
Watt (2017 Remaster)
After the crossover acclaim of 'Cricklewood Green', critics found the band's 1971 follow-up wanting. I've never understood why. Not only do parts of Watt generate as much coiled power as its predecessor, it's a far more varied work. The throbbing, stop-start riff in the opening I'm Coming On couldn't be sexier, aided by Lee's full-throttle shout. The melody in My Baby Left Me ranks as one of Lee's most engrossing, goosed by a beat that keeps building, while Think About The Times perfects the band's balladry. For scope, TYA included a cheeky nod to spaghetti western scores in The Band With No Name. They offered one of their best jump blues nod in Gonna Run and added a pure rockabilly stomp to the live version of Chuck Berry's Sweet Little Sixteen culled from the band's performance at the Isle of Wight Festival the year before. For a capper, there's a three-part wonder, She Lies In The Morning that evolves from a hip-shaking rocker to a ruminative jazz piece, a la Traffic, culminating in a psych-rock rave-up.
Brimming with a very pure pop style not usually associated with Ten Years After, "She Lies With the Morning Sun" comes together in a way that (almost) combines the melodic sweetness of Paul McCartney or Badfinger, before spiraling into this jazz interlude that totally changes the mood. Still, it works. The jazz gives way and the band surge back in full throttle, heading eight or so miles high. They once again land on jazz-filled water, never returning to the shore of pure pop this ship was launched from. It's like three songs in one.
A Space In Time
Ten Years After pulled a major switcheroo on their sixth studio album. They signed with a much larger label in the States, the mighty Columbia Records, lessened the electric solos, and based most of the songs on acoustic riffs. It's a far less enveloping, or heady, sound than they presented on their Deram albums and it paid off commercially. The band enjoyed their best-known hit with I'd Love to Change the World a catchy Beatles nod, marred by a historically offensive lyrical couplet. The song opens with a line pondering the "insanity" of a world full of "dykes and fairies." Can you imagine anyone writing a line like that today? Back in the benighted days of 1971, however, that whopper hit the charts without comment. At least the song boasted a lovely While My Guitar Gently Weeps like guitar line. He used his acoustic guitar to its best advantage in the fierce wind-up to Here They Come and even matched it to some unexpected orchestrations in Over the Hill A few nods to the past turn up in the jazz instrumental Uncle Jam and the heavy Let the Sky Fall but otherwise, the group ventured a step too far from their forte this time.
A strong, catchy riff is something Alvin Lee never seemed to be without. "Let The Sky Fall" dishes out yet another instantly catchy example to lure the listener in. Featuring a subtle, yet effective vocal, one of the Best Ten Years After Songs swings and sways with beauty. Check out the pretty backwards guitar lines, and how they mix in seamlessly with the more straight-ahead lead work.
Ten Years After's sole entry into the Billboard Top 40 was this beautiful song. The '60s were over, the hippie dream gone with them, and Alvin Lee joined others in trying to come to terms with a new decade and a new reality. "I'd Love to Change The World" surveys that landscape and, not surprisingly, comes up without a concrete answer. The song oozes with a certain sadness, and yet is achingly beautiful all the while. Lee also fashions one of his finest and most emotional leads here. For many, "I'd Love to Change The World" stands as the soundtrack to that post-Woodstock state of mind, and it's still a staple on classic rock radio decades later.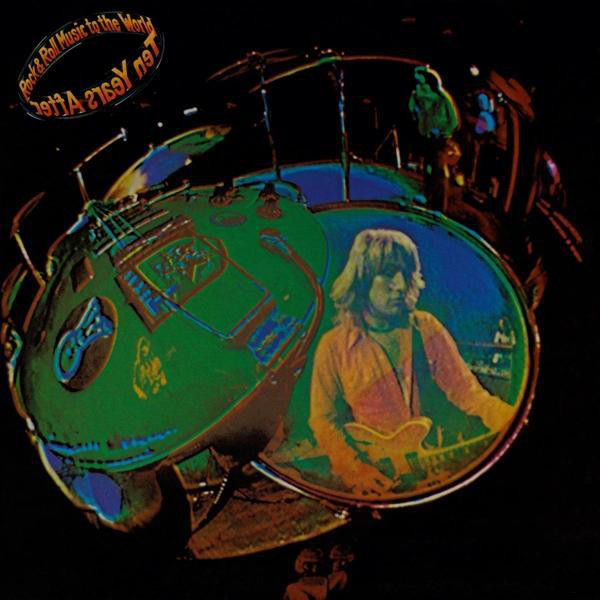 Rock 'N Roll Music to The World
Small wonder the band did a reboot on their second Columbia album, this time focusing almost entirely on Lee's charging guitar. Still, the songs, and the playing, weren't nearly as adventurous as on earlier albums, offering more on straight boogie anthems like the title track. Luckily, a few moments stood out, like the jam in Convention Prevention which worked off a Sympathy For The Devil, style riff, and You Give Me Loving a jazz-blues jam that sounded like TYA's answer to Whipping Post. 
The peak of this LP, "Religion" finds Lee and company questioning more than just the tangible world. The slow groove creeps in as Lee sings "I never really understood religion, except it seems a good excuse to kill." At the time, religions, spirituality and self discovery were everywhere. In fact, Jesus was the subject of many a hit record at the time. Alvin Lee, however, has a different take on things – and, whether you agree or disagree with his views, the man could play some mighty fine guitar. The result is one of the 10 Best Ten Years After Songs of all time.
Positive Vibrations
TYA saved the best of their Columbia years for last. It boasted the best written material and took the most chances of their releases for that label. Both the title track and Without You nailed the psych-country-rock balladry of Allman Brothers songs like Melissa while It's Getting Harder soared on an expected accordion hook, fired by a funky clavinet. Unfortunately, a by-then fatigued band folded shortly after its release.
Fifteen years passed before the band reunited for the largely perfunctory About Time. Lee continued to release solo work of varying degrees of value, right up through his unexpected demise in 2013. He died during a routine operation to correct arterial damage, at age 68. While his finesse as a guitarist never left him, Lee never again enjoyed a unit as inspired, and tight, as the one that created the undying works in Ten Years After's prime.